ANDREA KLIMKO ARCHITECTS
Andrea Klimko Architects is an award winning architecture studio based in central Europe with branches in London, Vienna and Bratislava.
The office has experience in a wide variety of projects architecture and design, with a strong focus on creative and innovative approaches and genius loci of the project place. Andrea has successfully worked on several design projects and consulting in many countries including Slovakia, Czech Republic, Germany, Austria, USA, Brazil, Egypt, Dominican Republic, Malaysia, China, Russia and Oman.
Andrea Klimko is the sole Founder and the Design Director of ANDREA KLIMKO ARCHITECTS, a RIBA Chartered Practice.
Andrea oversees the design of all projects and sets the strategy, goals and direction of the company. Andrea is a chartered member of the Royal Institute of British Architects (RIBA) in UK, registered member of the Architects Registration Board (ARB) in UK, a guest member of the Czech Chamber of Architects, a registered member of the Slovak Chamber of Architects, as well as being a Presidium Member of the Slovak Architects Society. She is an active member of the Austro-British Chamber of Commerce in Vienna, Austria.
As the founder of the nonprofit professional organisation; Women Architects (WA), Andrea is passionate about supporting women working within the industry, encouraging their interests in architecture and career development in Europe and worldwide.
Within Andrea's 18 years of experience, she has been involved in designing more than 150 projects from their initial concepts to the final completion and more that 35 projects have been built. Her projects have been featured in many national and international publications and magazines.
Andrea was born in Czechoslovakia, She graduated as an architect from the Slovak Technical University in Bratislava, Slovakia. She also attended the University of Urban Planning in Klagenfurt, Germany and the University of Technology, Faculty of Architecture in Vienna, Austria.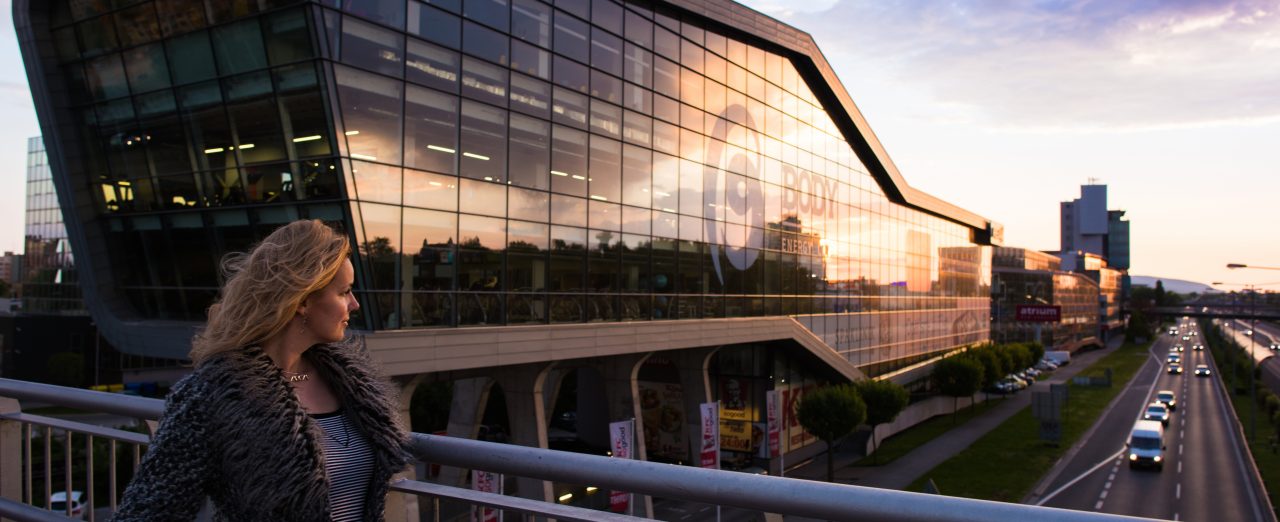 PHILOSOPHY
The philosophy of Andrea's work is to find the poetic language in architecture, through its beauties and sensualities; to find an interface connection between dream and reality, lightness and heaviness, and the feminine and masculine principles of our human nature.
"I like to feel pure tectonic, dynamic context and physical presence. I like to create fluid, spacious and elegant architecture. Architecture with one essential line that curves through space and time."
AWARDS AND CREDITATION
The year 2004 which was one year after Andrea qualified as an architect, saw Andrea win her first national award.
This was a sign of things to come as she continued to collect various awards afterwards. Andrea´s highlight was when she won the 2010 World Architecture Award. Andrea was also nominated for the Crystal Wing Award in 2012, which honours national personalities in architecture for their lifelong work and success achieved beyond national borders. She was the youngest and the first female architect to have been nominated for this award.
2016 Prix français des Femmes Architectes – Chairman of the jury
2013 Professor Jozef Lacko Award – jury member
2013 Dusan Jurkovic Award – International jury member
2012 The Architecture Grand Prix Statute – National Architecture Award – Chairman of the jury
2012 Crystal Wing Award (lifelong work and success achieved beyond the national borders)
2012 Dusan Jurkovic Award for multiple projects
2010/2011 Brownfields Slovnaft – jury member
2010 World Architecture Award for the leisure and sports centre RELAXX
2007 Bauwelt – das erste Haus (Mondrian)
2006 International Architecture Award for the residential building Mondrian awarded by Faenza editrice, Bologna, Italy – "colour: a material for architecture" (Mondrian)
2005 CE-ZA-AR award for the best architecture in the category of Residential buildings (Mondrian)
TESTIMONIALS
I am writing on behalf of Cocoa Beach Resort Brazil, referring to the design work you carried out for our company in regard to our mixed use Hotel and residential development in Bahia Brazil.

I am very happy with the way the whole process was dealt with by you and your company and very much enjoyed our meetings in regarding the process.

Your attention to design detail was exciting and creative, the level and quality of your presentation was excellent, we would have no hesitation in recommending you to our associates and clients. We very much look forward to working with you again in the future.

Best Regards Derek McMillen
CEO,Cocoa Beach Resorts Brazil Ltd
London UK
Our construction and development group worked with Andrea in several mainly residential projects which obtained prestigious architecture awards and media attention.

I find the strengths and skills that Andrea brings to the project is perseverance, a broad mind and the desire to exceed expectations and excel.

Pavol Kollar, CEO and Founder of IN VEST, Slovakia
We were looking for a skilled European architectural office who would fulfil our vision of creating an innovative and sustainable solution, for one of our large scale residential condominium project.

We contacted Andrea, Design Director of ANDREA KLIMKO ARCHITECTS, and were pleased to meet with her at our company in Melaka, Malaysia.
Andrea accepted this challenge with a real passion and high energy to deliver a new fresh idea for our villa prototype; something totally different from our usual conservative developments.

Andrea designed a multipurpose eco home at an affordable price for young families. We were extremely happy with the very prompt, efficient and professional approach from Andrea. The project was delivered on time and perfectly captured our imagination."

Jacky Yap,Sri Pengkalan Binaan Sdn., Malaysia