The  event presents a selection of winners of the The French Women Architects Prize and their outstanding projects, brought to Slovakia by the professional association Women Architects. "Prix des Femmes Architectes" is organised since 2013 by the French organisation ARVHA – Research Association of the city and habitat and supported by the French Ministry of Culture and Communication, the French Ministry of women's rights and the Order of architects of France. 
The exhibition took place at the Faculty of Architecture of the Slovak University of Technology in Bratislava, in the newly rebuilt gallery space of the Institute of Urban Design and Planning. The former structure of small office rooms has been converted the original state of an multipurpose open area, which will be serving as a gallery for the projects of the French female architects for two weeks, as a first ever exhibition in the space. The head of the institute Mr. Architect Bohumil Kováč has been very enthusiastic about the event, claiming that the historic view of the architecture as a male profession is gradually changing and that this exhibition is a proof of how much women can offer in this field.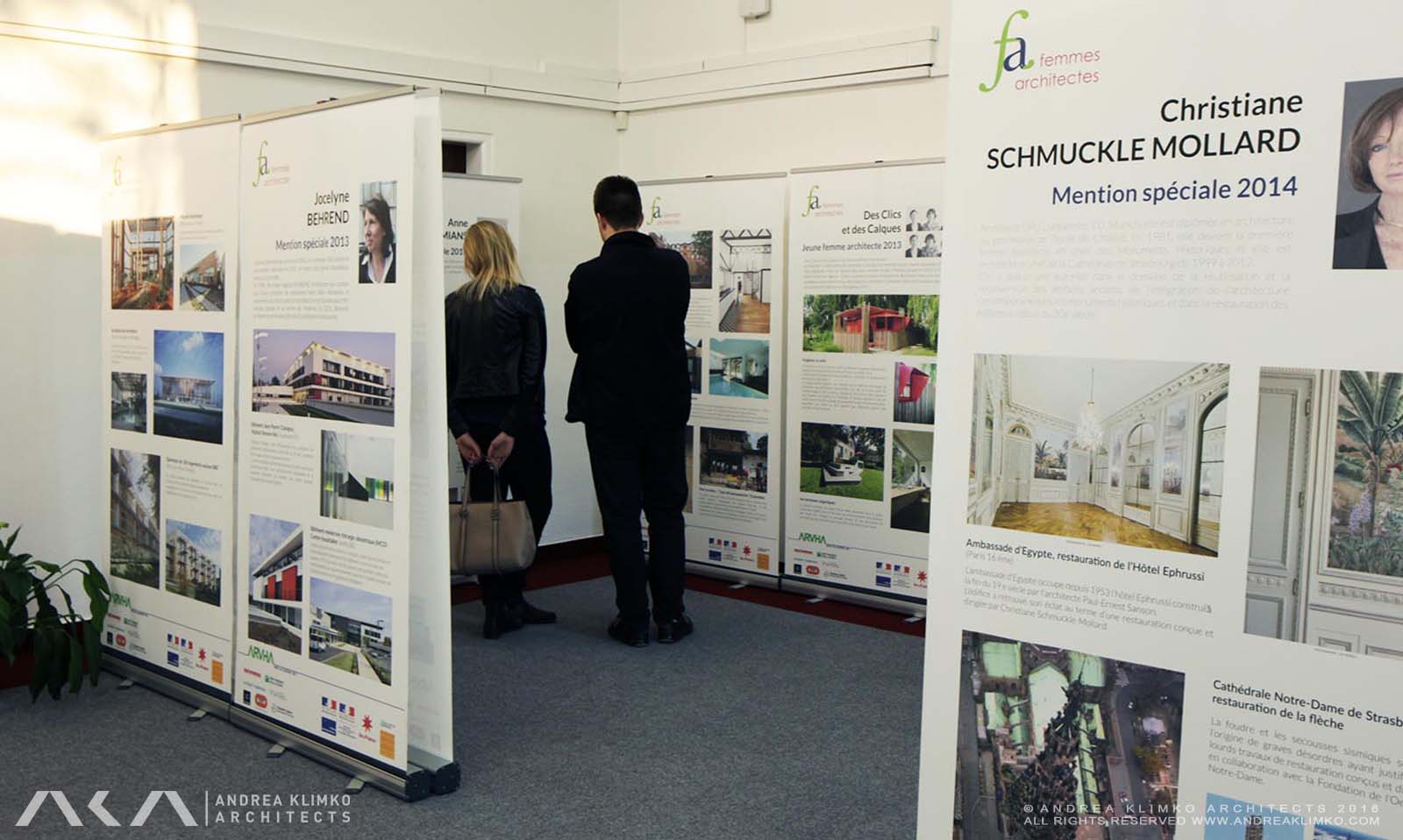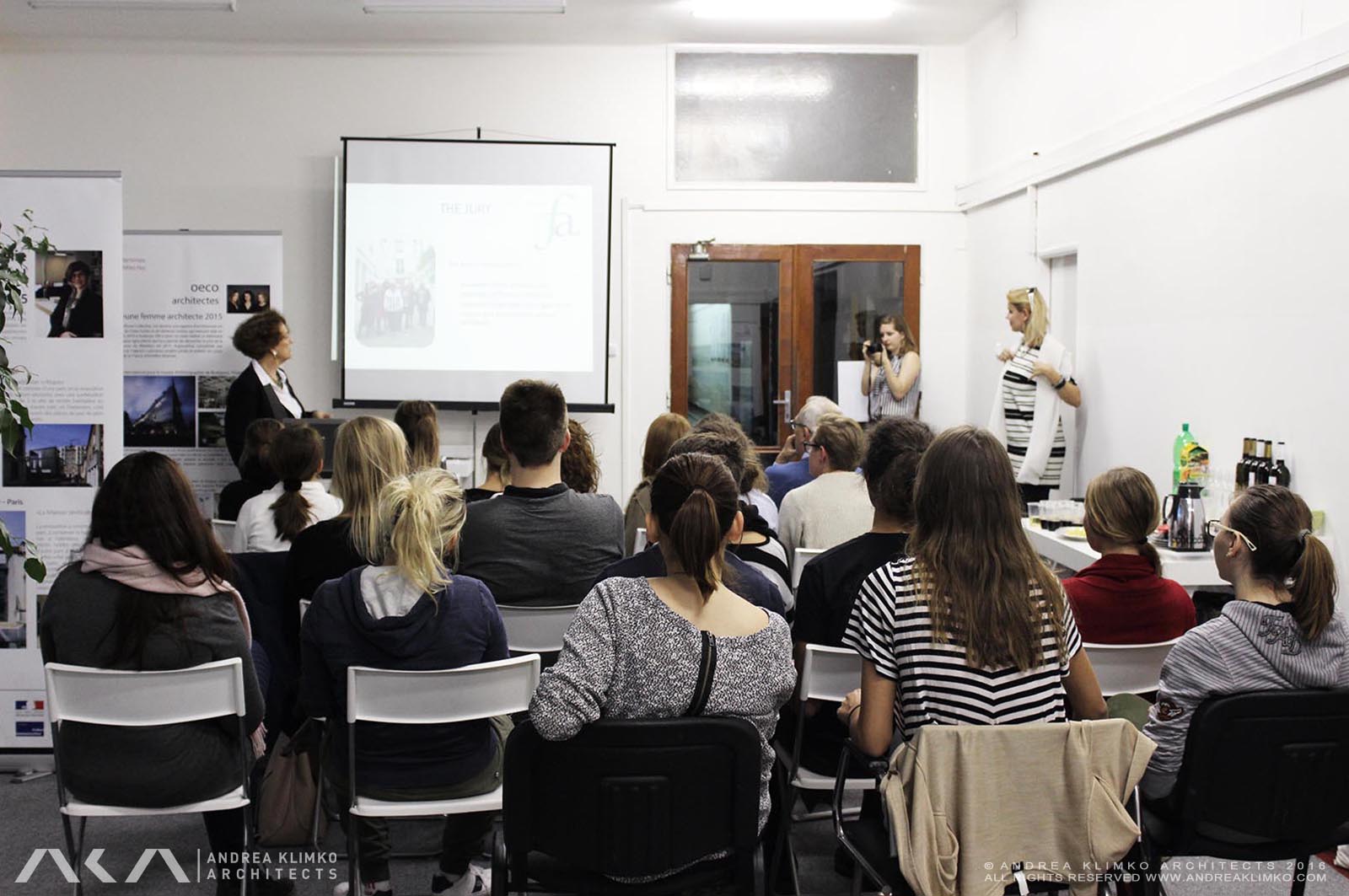 The founder of the award Catherine Guyot pointed out in her opening speech that there is a very small number of people able to recall at least three names of female architects (usually beginning and ending with Zaha Hadid) and so instead of doubting the reason of awarding such a prize, we should be asking: "Why not?" The prize has three categories: Young woman architect (under 40 years old), Woman architect (over 40 years old) and Original work.
Following the exhibition opening, a lecture about the Paris Zoological Park by one of the authors, the French architect Véronique Descharrières, co-director and partner of Bernard Tschumi Architects in Paris. The presentation included many unexpected situations the designer of such a project can land themselves in, but also a large amount of enjoyable and entertaining moments of the design process.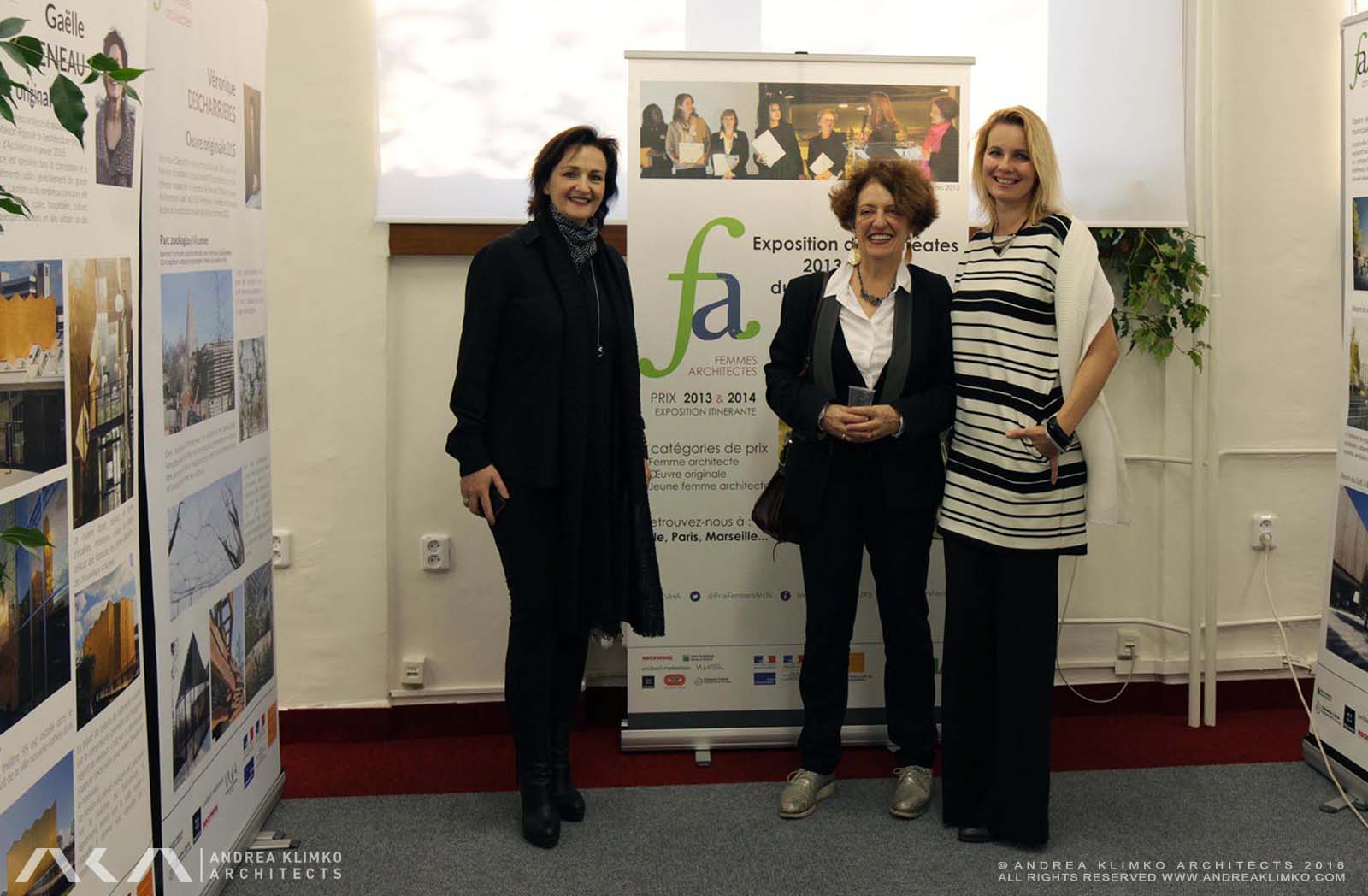 Véronique Descharrières  (left) with Catherine Guyot (middle) and Andrea Klimko (right).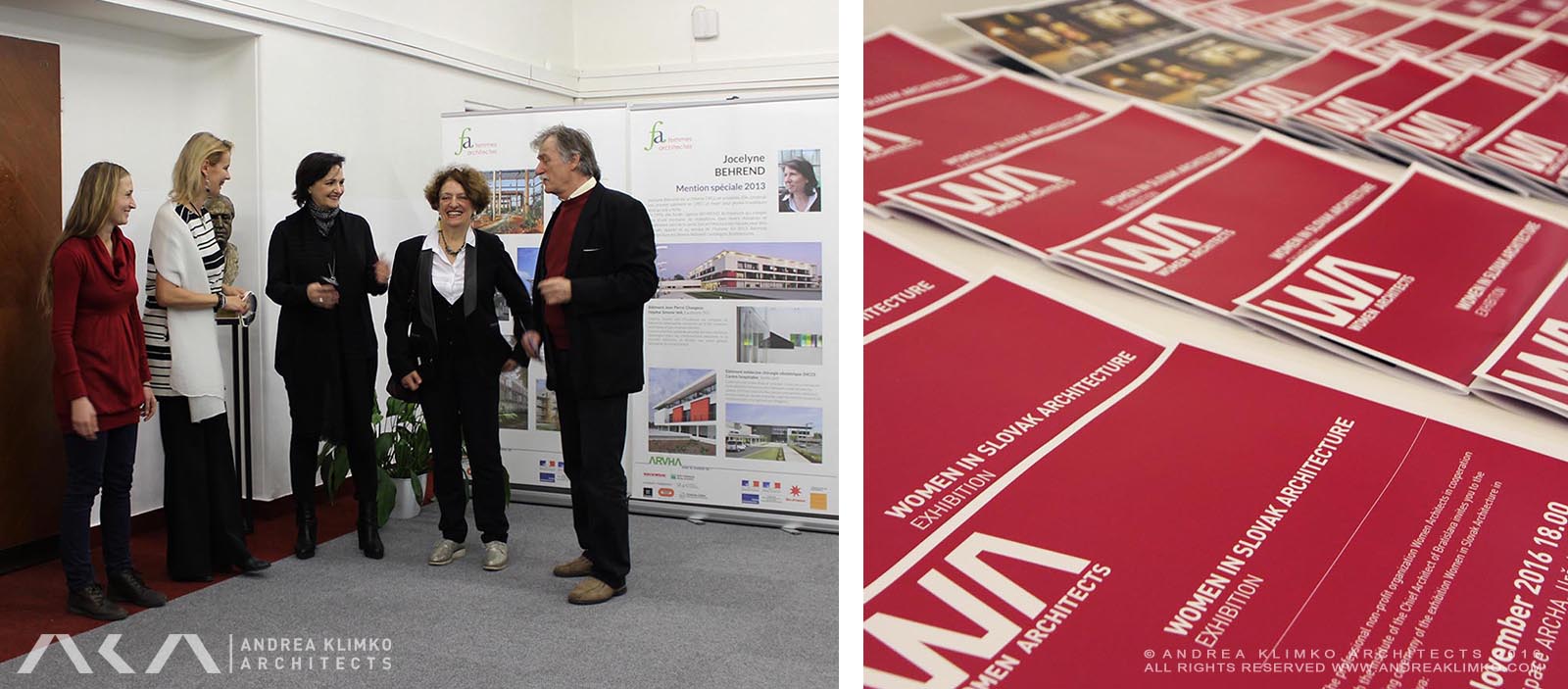 From the right: Prof. Bohumil Kováč (Head of the Institute of Urban Design and Planning), Catherine Guyot (Founder of the Prix des Femmes Architectes, Paris), Véronique Descharrières (Director of  Bernard Tschumi Urbanists Architects, Paris), Andrea Klimko (Founder of Women Architects, Director of Andrea Klimko Architects) and her colleague Zuzana Krivošová (Manager of Women Architects).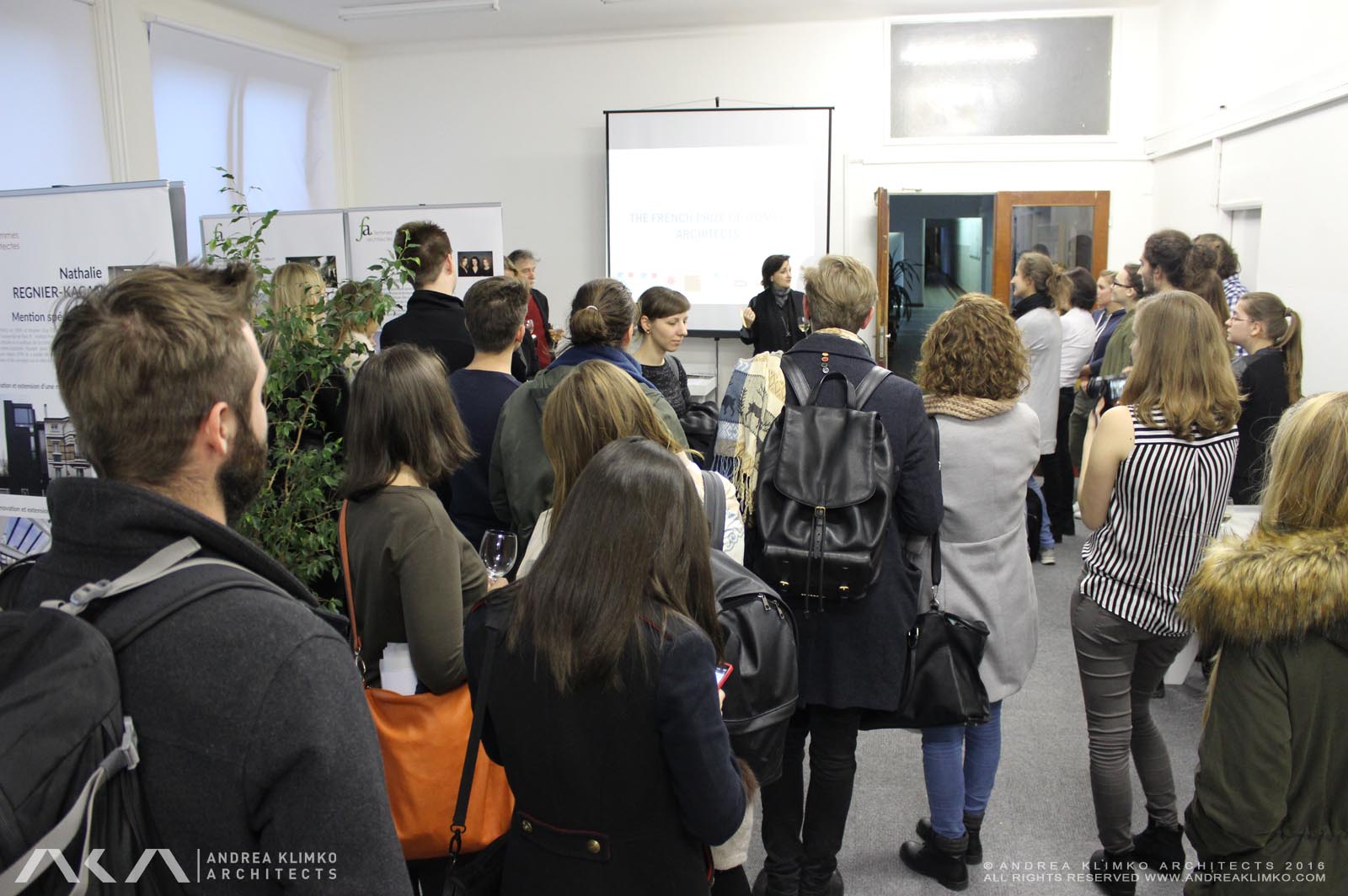 Catherine Guyot explained about the award and in particular the reasons behind it, moreover she went out of her way to comment on each of the awarded architect and their project, to express her personal point of view in addition to the general information on the exhibition panels.